A series of five studies have positively evaluated the safety and efficacy of 80mg (about 4-5 drops) of Lavender essential oil ingested in a capsule per day.
Researchers conclude Lavender essential oil resulted in significantly better sleep, relief from anxiety ~ and one study in this series notes Lavender use "pronounced antidepressant effect and improved general mental health and health-related quality of life".
The formulation studied is simply 4-5 drops of pure lavender in a gel capsule, which is easily made at home. Buy yourself empty gelatin or cellulose capsules, and use a small dropper (removing any orifice reducer from your bottle first) and add 4-5 drops in a capsule.
We have found better results when taking this on an empty stomach, and only a little bit of burping-up lavender when taken with food.
These studies appear to validate the anti-anxiety and sleep supportive nature of Lavender essential oil in general, as other studies have noted when the oil was inhaled or applied via massage. Lavender oil both diffused and topically applied are actually absorbed into the bloodstream. We think it is very interesting you don't have to smell it to work. (Scroll down to see the studies and the researcher's conclusions for each).
According to Robert Tisserand in "Essential Oil Safety", oral ingestion of an essential oil increases absorption by about 10 times compared to the topical application. And lavender is noted in as to be non-toxic and non-sensitizing in this and other literature.
Converting drops to mg (A dosage discussion!)
At Ananda's laboratory, the average mg per drop of Lavender Essential oil was 18mg per drop. This was done using the standardized 1oz cobalt dropper that is used to calculate all of our drops/mL values that you see on every oil's product page. How this breaks down for this particular dosage target of 80-160mg is:
2 drops = 36mg
4 drops = 72 mg (this is a good starting place)
5 drops = 90 mg
7 drops = 126 mg
10 drops = 180 mg (this is the maximum dose from the trial)
Even at the 10 drop amount, the only adverse effects that were seen were an 8% increase in G.I. (gastrointestinal) issues (burping, discomfort, etc.). We recommend trying these dosage amounts without food as this has been shown to increase the G.I. issues observed.
In summary, the "take-home messages" are that:
Lavender essential oil is safe for ingestion in the amounts tested.
Lavender essential oil taken once daily in a capsule significantly improved sleep quality.
Lavender was found as effective as prescription sedatives (benzodiazepines, such as Valium) for anxiety relief and sleep, without side effects or the potential for addition.
Lavender was found as effective as prescription anti-depressants (compared to Paroxetine, ie. Paxil) at the relief of GAD - 'generalized anxiety disorder' - with markedly lower adverse effects ("AE" in the research).
These human studies have been randomized and placebo-controlled, ensuring the validity of the results. This means participants were randomly selected to either receive lavender, placebo, or comparable pharmaceutical preparation. In some cases, the control was an anti-depressant, and others a benzodiazepine - the anxiety-relief 'gold standard' in Western medicine.
Finally here are the titles and conclusions of the 5 studies, in chronological order:
Title: A multi-center, double-blind, randomised study of the Lavender oil preparation Silexan in comparison to Lorazepam (Valium) for generalized anxiety disorder. Published in Phytomedicine. 2010 Feb;17(2):94-9.The authors concluded: "In conclusion, our results demonstrate that silexan is as effective as lorazepam in adults with GAD. The safety of silexan was also demonstrated. Since lavender oil showed no sedative effects in our study and has no potential for drug abuse, silexan appears to be an effective and well-tolerated alternative to benzodiazepines for an amelioration of generalized anxiety."
Title: Efficacy and safety of silexan, a new, orally administered lavender oil preparation, in subthreshold anxiety disorder - evidence from clinical trials. Published in Wien Med Wochenschr. 2010 Dec;160(21-22):547-56.The authors concluded: "Across all trials 280 patients were exposed to silexan 80 mg/day, 37 were treated with lorazepam 0.5 mg/day and 192 received placebo. Average within group HAMA total scores at baseline ranged between 24.7 and 27.1 points. Patients treated with silexan showed average HAMA total score decreases by between 10.4 ± 7.1 and 12.0 ± 7.2 points at week 6 and by between 11.8 ± 7.7 and 16.0 ± 8.3 points at week 10. In GAD silexan and lorazepam showed comparable HAMA total score reductions"
Title: An orally administered lavandula oil preparation (Silexan) for anxiety disorder and related conditions: an evidence-based review. Published in Int J Psychiatry Clin Pract. 2013 Nov;17 Suppl 1:15-22.The authors concluded: In patients with subsyndromal anxiety or generalized anxiety disorder (GAD) an anxiolytic effect of Silexan was evident after 2 weeks. Patients treated with Silexan showed Hamilton Anxiety Scale (HAMA) total score decreases between 10.4 ± 7.1 and 12.0 ± 7.2 points at Week 6 and between 11.8 ± 7.7 and 16.0 ± 8.3 points at Week 10.
Title: Lavender oil preparation Silexan is effective in generalized anxiety disorder--a randomized, double-blind comparison to placebo and paroxetine. Published in International Journal Neuropsychopharmacol. 2014 Jun;17(6):859-69.The authors concluded: Silexan showed a pronounced antidepressant effect and improved general mental health and health-related quality of life. In GAD Silexan is more efficacious than placebo. AE rates for Silexan were comparable to placebo and lower than for the active control paroxetine.
Title: Efficacy of orally administered Silexan in patients with anxiety-related restlessness and disturbed sleep - A randomized, placebo-controlled trial. Published in European Neuropsychopharmacol. 2015 Aug 7. pii: S0924-977X(15)00242-4.The authors concluded: In all outcome measures the treatment effect of Silexan was more pronounced than with placebo. The study confirms the calming and anxiolytic efficacy of Silexan.
Title: The mechanism of Lavender Oil-Potent Anxiolytic Properties via Modulating Voltage-Dependent Calcium Channels. Published April 29, 2013 in PLOS one, the action for Lavender's anti-anxiety and calming nature has been studied by many researchers and postulated by many aroma practitioners due to the modulation of calcium voltage channels (via inhibition), but no real consensus has been reached.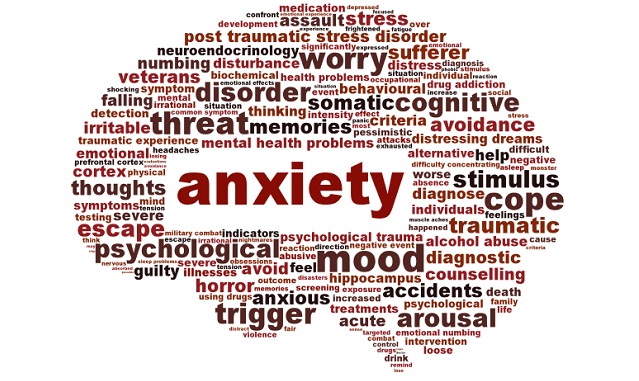 A promising recent study has shown that the mechanism of action is probably closely related to the drug pregabalin, a well-known anti-depressant that helps regulate the voltage-dependent calcium channels  (VDCC) in the brain.
The study concludes that although the mechanism of action isn't exactly the same, "(s)ilexan does not bind to the gabapentin binding site at α2δ-subunits of P/Q-type VOCCs," the calcium channel are inhibited and thusly regulated in a similar degree that correlates to the  80mg-160mg dosage (4-5 drops or 9-10 drops respectively) that was outlined by the set of Kasper studies (pdf of the third study here).
To conclude, the dosage of 80mg (4-5 drops) seems to be correlated with the same mechanistic action as a proven antidepressant, and the mechanism is unique enough to explain some of the other benefits of lavender. Although this doesn't fully prove the mechanism it does give enough correlation to prove definitively that Lavender's anti-anxiety behavior has a lot of great promise for patients.